Bio Sculpture
In this exploratory project by Hiroya Tanaka Lab. of Keio University SFC and METAICY, the creators built a "Social Sculpture of the Anthropocene," an earthen form representing the relationship between humans and nature, by integrating nature with the technologies and social systems humans have developed.
In recent years, forest fires have been occurring all over the world due to global warming, and events frequently occur that burn diverse ecosystems in an instant. We are exploring ways to transplant a portion of soil components (forest fragments) collected from the depths of forests into urban spaces to visualize their potential under a new environment, while also exploring the technology "Technology for multispecies" for the non-human organisms that nurture them.
Natural materials such as soil and rice husks were mixed to form an output material for proprietary 3D printer capable of expanding to 30mx30m, which printed a structure that houses the "environmental materials." 
Bio Sculpture
 is built with red clay, black clay, 
akadama
soil and rice husks. Its multi-hold shape is designed using an algorithm based on the growth of coral reefs to maximize the surface area. It creates a microenvironment conditioned by interlacing shade and sunlight. Nine types of moss were planted on the surface while the internal compound autonomously controls the temperature, humidity, carbon dioxide, pollutants in the air, etc. Through long-term sensing of various elements such as changes in the microbial environment, the creators aim to clarify what it means to introduce an environment that does not exist in nature using digital technologies. As the latent form of the ecosystem becomes more apparent over time, this sculpture matures in the truest sense. Currently, there is one unit each in Chiba City (Makuhari New City) and Kitakyushu City.
The work won the Social Impact Award in the Art Division of the 25th Media Arts Festival.
人間が発展させてきた技術や社会システムを自然へと開くことで、人と自然の関係性を塑像する「人新世の社会彫刻」の模索を掲げる、慶応義塾大学SFC田中浩也研究室とMETACITYによる協働プロジェクト。
近年、地球温暖化により世界中で森林火災が発生しており、多様な生態系が一瞬で焼失する出来事が頻発している。我々は、森の深部から採取してきた土壌成分の一部(森の欠片)を都市空間に移植し、新たな環境下でその潜在力を可視化しつつ、またそれらを育む、人間以外の生物に向けた技術「Technology for multispecies」のあり方を模索している。
土や籾殻といった自然素材を組み合わせて出力素材とし、30mx30mに延伸可能な独自開発の3Dプリンターによってその内部構造を付与することで能力を拡張した「環境マテリアル」を使用する。今作では赤土、黒土、赤玉土、籾殻からなる彫刻を制作し、サンゴ礁の発生アルゴリズムを基に付与されたひだ構造が彫刻の表面積を最大化させるとともに、表面に日陰や日向が複雑に入り組んだ微小環境をつくり出す。この表面には9種の苔が共生するように配されており、温度・湿度・CO2・空気の汚れ等を自律的に調節。デジタル技術によって自然ではありえない環境をつくり出すことがいかなる効果を持つのかを、微生物環境の変動を含めた長期的なセンシングにより明らかにしていく。時間の経過とともに潜在していた生態系の姿が顕在化してきたときが、本作の真の意味での完成となる。現在、千葉市(幕張新都心)と北九州市に、1器づつ設置してある。
第25回メディア芸術祭アート部門ソーシャルインパクト賞受賞作品。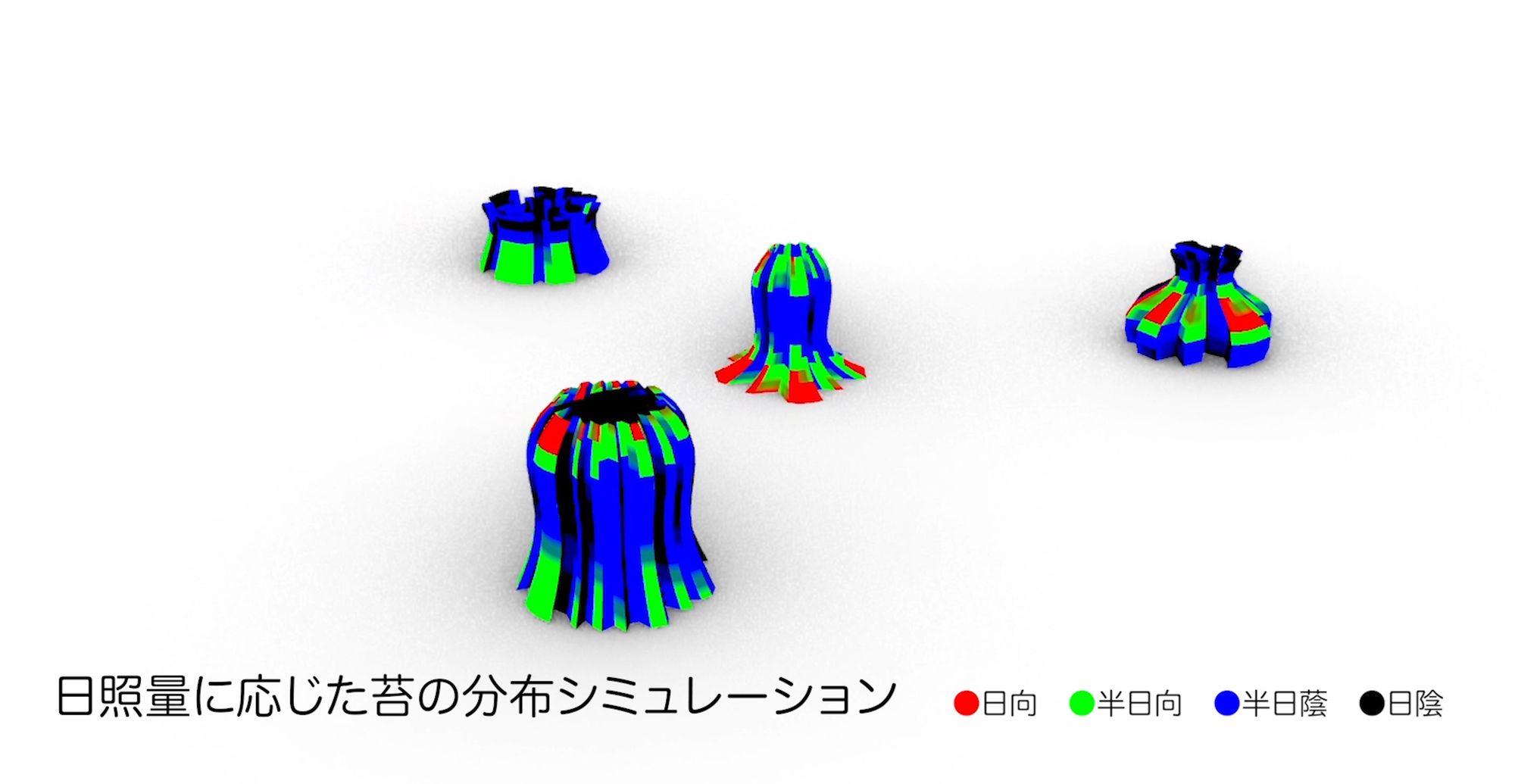 Award:
Social Impact Award (Minister of Education, Culture, Sports, Science and Technology Award) at the Art Division of the 25th Japan Media Arts Festival (Japan, 2022)
Finalist and Public Award of the WIRED Creative Hack Award 2021 (Japan, 2021)
Credit:
Producer / Director: Ryuta Aoki
Concept Designer: Ryuta Aoki
Research Director: Hiroya Tanaka
Design Research: Hiroya Tanaka Lab. (Yasuo Nagura, Moriyasu Chinen, Nanaka Matsuki, Megu Kawai, Shin Aoyama)
Production: Hiroya Tanaka Lab., METACITY
Past Exhibitions:
Related Links: